Hebe Studio
MTOSuite 3D configurator for women's suits
Hebe Studio was born from the inspiration of Gea Antonini, Federica Croce and Laura Zama, three Italian designers who have chosen to create skilfully tailored women's suits. Mainly based on traditional men's tailoring, they added a funny and feminine touch. The Hebe Studio woman is polished and elegant, but at the same time free. For this reason, the brand's clothes bring out her androgynous side, without renouncing sensuality. This 100% made in Italy brand favors feminine elegance and independence.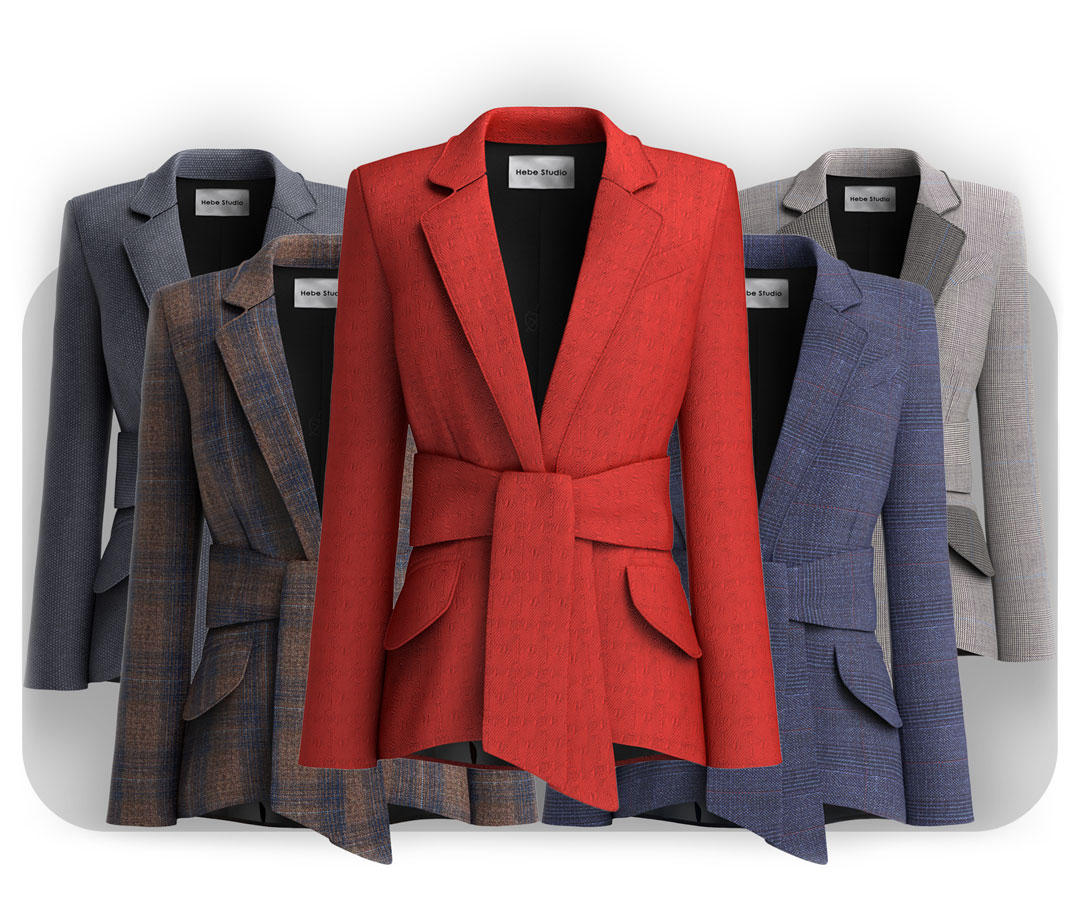 Hebe needed to integrate the 3D configurator of women's clothes into the Shopify eCommerce. In particular, they required high fidelity to the design and photorealistic rendering of textures of materials, with a service accessible from all the devices.
The solution involved the integration of Zakeke 3D configurator, based on WebGL technology, via Shopify plug-in. In order to offer a customer experience in line with the brand guidelines, we worked on a front-end with customized UX / UI and guided sales funnel. The configuration experience was carried out in a single 3D scene, so that the customers could easily create their personalized suit, combining the 6 iconic Hebe blazers with 6 different trousers. Once their most representative dress has been configured, the customers can continue choosing the type of fabric from 5 different families, colors and accessories, with the possibility to add initials during the last step. Various functions have been implemented and optimized for mobile navigation: different cameras for each selected 3D scene, "explosion" of the dress view, zoom on the product, high definition pop-up of the selected material, variable price list for the selected configuration and visualization of the product in augmented reality.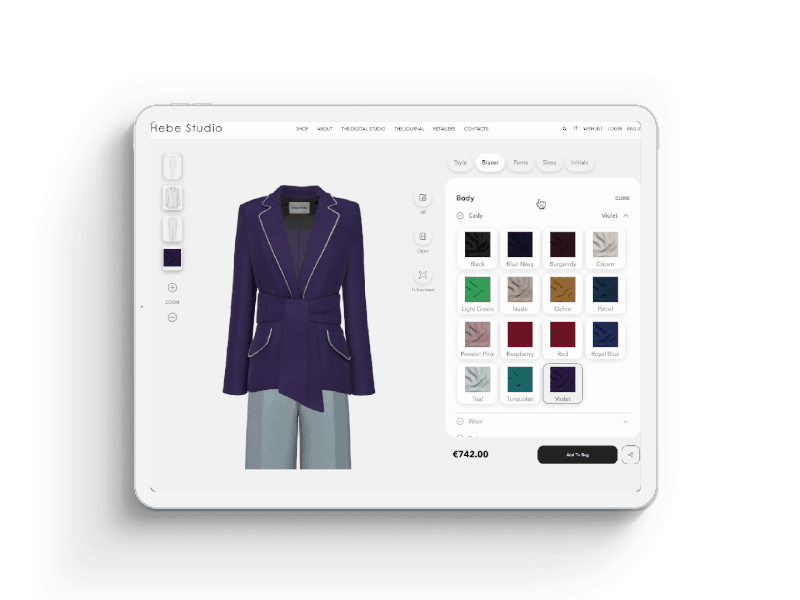 Design your custom suit
with MTOSuite
Benefits for the customer
MTOSuite 3D configurator has allowed Hebe to innovate the online shopping experience, offering a unique customization service compared to its competitors. The extreme flexibility of the platform has enabled the brand to manage all the complexities of product configuration through a variable price list, according to the selected configuration. The optimization of all the low poly 3D models and all the textures of the materials (over 200) empowers the user to configure the product in a single 3D scene, thus improving customer experience.
Let's connect
Start your
digital metamorphosis 

now
FILL
THE FORM

Let's connect
Start your
digital metamorphosis now
FILL
THE FORM